Greetings from Oz - posts to follow. In the meantime, here are the recipes for the sides (made with all local ingredients) from Thanksgiving dinner: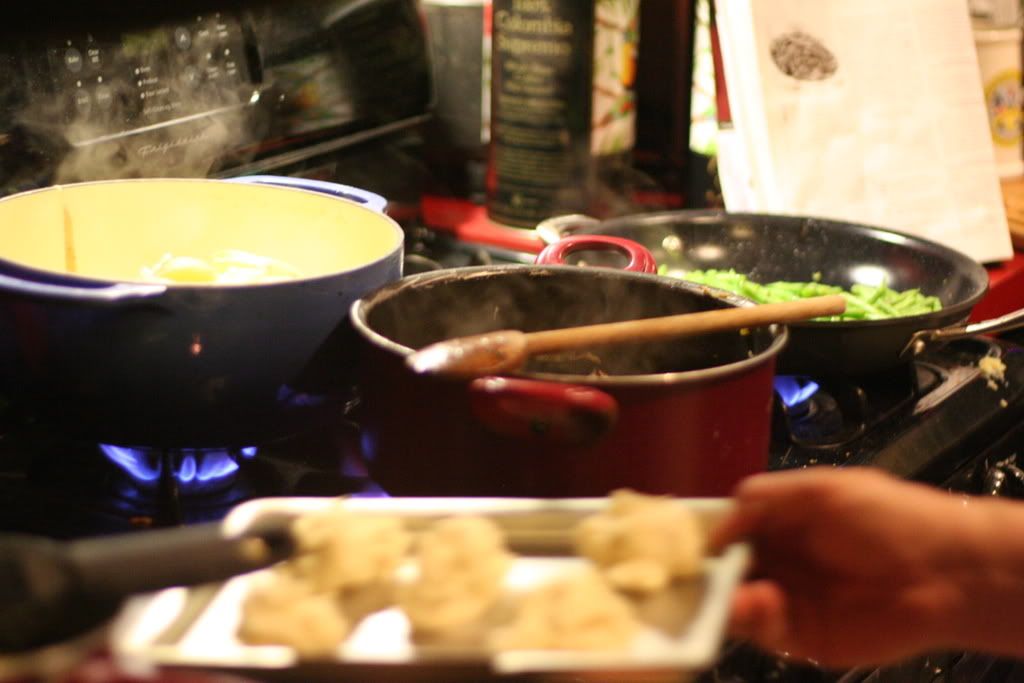 Yukon Gold Mashed Potatoes
4 lbs Yukon gold potatoes, sliced into ½" rounds (I prefer them left unpeeled)
1 stick (or more) of butter
¾ cup heavy cream (or milk if you want to be slightly healthier)
1 head roasted garlic (or 4-6 fresh cloves, minced)
big dollop of sour ceam (optional)
salt and pepper
Rinse potatoes in colander until the water beneath them runs clear, about 2 minutes. Dump them into a 5-6 quart dutch oven and cover by an inch or so with cold water. Add a nice big pinch or two of salt. Bring to a boil and reduce heat to medium-low, and cook 15-25 minutes, until potatoes are tender.
Meanwhile, bring butter milk, garlic, and a tsp salt to a simmer in a small saucepan over medium low heat.
When potatoes are fork tender, drain and return to Dutch oven over medium heat, until steam no longer escapes. This prevents the mash from becoming too soupy. Reduce the heat to medium low.
Slowly add about half of the heated cream mixture. Begin to mash and see how thick or thin your product is. If it's too thick, slowly pour more of the cream mixture, while mashing with the other hand (sometimes having a helper is a good idea). Once you've reach the desired consistency, you might like to add a nice dollop of sour cream to finish. Taste to adjust seasoning (I like to add a ton of cracked pepper at the very end). If not serving immediately, cover and keep warm over a low heat.
Truffled Rainbow Chard and Cremini Mushroom Sauté
Extra Virgin Olive oil
3-4 Bunches of Rainbow Chard, leaves torn, stalks removed, chopped, and stored separately
1 small onion, cut into thin rings
12 or so ounces cremini mushrooms, sliced
1 head roasted garlic (or 4-6 cloves minced fresh)
Dash of Dry Sherry
Drizzle of White Truffle Oil
Freshly grated Grana Padano, or other hard Italian cheese, if desired
Heat 2 tbsp oil in a large Dutch oven or sauce pan over medium-heat. Add onion and stalks, and sauté several minutes, until onion is translucent and stems are softened. Push to the perimeter of the pot, and add a bit more oil and the sliced mushrooms. Increase heat to medium high and do not stir – this prevents the mushrooms from browning. After about five minutes, stir the mushrooms around and cook until most slices are nicely caramelized.
Add pinch of salt, the garlic and the torn leaves. Cover. After a few minutes, add the sherry and stir frequently once the greens begin to wilt.
Once they are all cooked down, turn off heat and add the truffle oil (remember it's very strong, so be very careful!). Taste for seasoning (if adding the cheese, make sure you don't add too much salt) and cover until ready to serve. When prepared, transfer to a serving bowl and cover with grated Grana Padano.
Fresh and Tangy Cranberry Sauce
1.5 cups water
1.5 cups brown sugar
2 pints cranberries
3 tsp Dijon mustard
2 tbsp chopped fresh thyme
1 tbsp grated orange zest
Bring water and sugar to a boil in a medium saucepan over medium high heat. When sugar dissolves, add cranberries. Bring to a boil and reduce to a simmer on medium low until cranberries begin to burst, about 7-10 minutes. Turn off heat and add the other seasonings.
Green Beans with Crispy Shallots and Black Walnuts
4-5 tbsp butter, softened and divided
3 cloves minced garlic
1 tbsp chopped fresh thyme
t tsp lemon zest
6 shallots, peeled and sliced into rings
2 tbsp olive oil
1 lb green beans, cut into 2 inch pieces
½ cup black walnuts (any variety is fine)
Combine 3 tbsp softened butter, garlic, thyme and lemon zest. Set aside.
Heat remaining butter and olive oil in a large nonstick pan and over medium heat and fry shallots until caramelized (or burnt, as desired). Remove with a slotted spoon and set aside in your serving bowl.
Add the green beans to the pan and increase the heat to medium high. Cook 4-6 mintues or until they begin to brown in spots.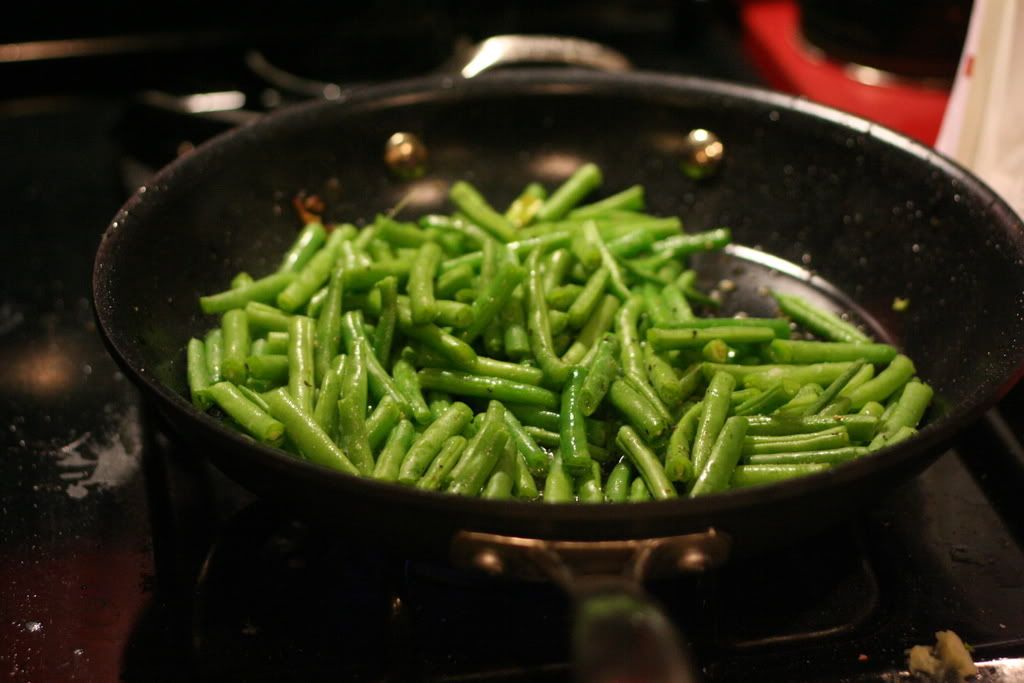 Add ¼" cup water and cover. Cook another 5 minutes so that they steam and cook throughout. Uncover, and add reserved compound butter, shallots, and walnuts and cook 1-3 minutes longer.
Apple Streusel Pie
makes 2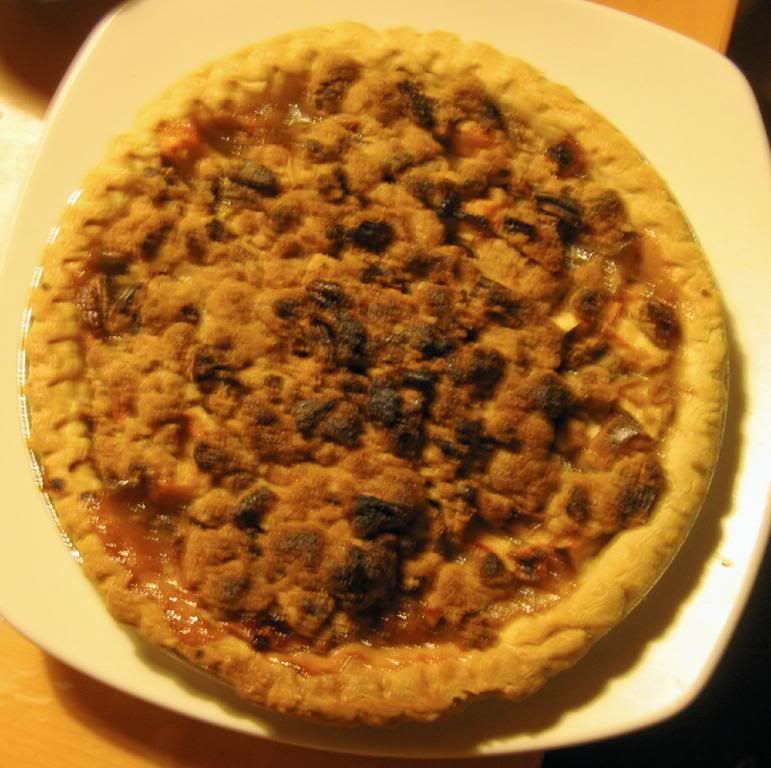 2 8" Frozen Pie Crusts (I normally make my own - but I was busy enough today)
2 2/3 cups apple cider
4 Granny Smith apples, cored and diced
2 Pink Lady apples, cored and diced
3/4 cup white sugar
1/4 cup brown sugar
1/4 cup flour
1/2 tsp cinnamon
1/4 tsp salt
juice from 1-2 lemons (4 tsp)
Streusel topping (recipe follows)
Boil cider til reduced to 2/3 cup and set aside away from heat.
Put rack in bottom third of oven and preheat to 400 degrees. Combine apples, flour, sugars and cinnamon. Add cider reduction and lemon juice. Put into crusts, and bake 20 minutes. Prepare streusel topping and add to the top of the pies. Bake 20 minutes longer, until browned and bubbling. Serve warm with ice cream (we chose Pistachio Gelato from Capogiro and Chilly Philly Vanilla).
Streusel Topping
1 cup brown sugar
1 cup flour
1 cup pecans
1 cup butter, chilled and cubed
Combine first 3 ingredients with hands and then add butter, rubbing between forefingers and thumbs until slightly incorporated. Keep refrigerated.