I guess I was a little jetlagged, after all – I woke up at 3 and tossed around until 7. Eric finally woke up then and we set out for brekkie. We had seen a cool café a few blocks from the hotel the day before so we decided to go there for our morning fix. Having splurged on chocolate last night, Eric and I went light with two yogurt dishes – he got a parfait with berries and granola, and I ordered fruit salad with bircher muesli.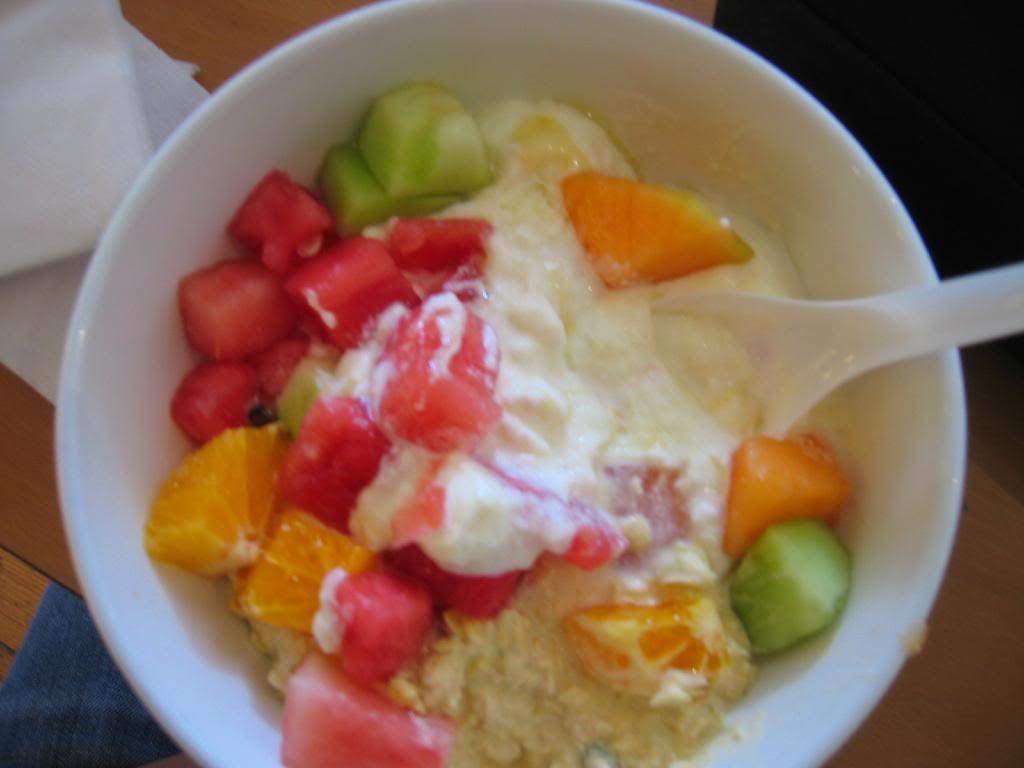 Nice and healthy, and it got the job done. It should also be noted that the coffee here is also amazing. But that was to be expected, as one of my favorite breakfast joints in Philly is Ants Pants Café, an Aussie brekkie/lunch spot that imports its beans from Oz – and of course the coffee is strong and great.
We went back to the hotel to wash up and prepare for our long trek today – we were returning to Fitzroy to do some damage. At 11 we hopped on the tram like good, seasoned international travelers and hopped off at the corner of Gertrude and Fitzroy. Actually I shouldn't say our ride went off without a hitch – we were really confused about payment on the tram. We were told that it cost $1.70 or so but we couldn't figure out how and where to pay. There was a conductor up front – but he didn't take our money. We went to the back, where there was a ticket machine and sign detailing the Metcard system. But it still wasn't easy. The questions raced about between us: Were we going to Zone 2? Staying in Zone 1? Why is there no zone map – I've never heard of those neighborhoods – where's Fitzroy? I thought that was the name of the area… Wait, who's going to check to see that we paid? Maybe it's free. What if there's an officer waiting to check our tickets when we get off? This brochure says we could be fined or even arrested! But we don't enough change to pay for two Metcards – it says it's $3.50 – how could it be that that we were told that it would could half as much? I glanced around to see what everyone else was doing – they were just getting on and sitting down. But what if they have monthly passes? Senior discount cards? We rocked nervously for the rest of the ride. Here – let's just get off here – there's no cops – they'll never catch us. At the stop we surveyed the scene like two criminal amateurs who just pilfered candy bars from a convenience store. Either way, we made it, un-incarcerated.
The walk was a blast – there are so many cool shops here. I could've spent my entire life savings in one block. Various art supply stores were littered between galleries and local clothing and fabric boutiques. There were records, vinyl, shoes, bags, handmade jewelry, funky house wares and many, many book stores showcasing new and used items – there was even one dedicated just to cookbooks. I was frustrated – how could we not have this king of shopping at home. Then I acknowledged that it was probably better that we don't have these things – or I'd be one broke woman.
We walked for a bit, until our tummies started to grumble – we needed fuel to continue our spree. I had noticed a place the day before called Soul Food Vegetarian and we happened upon it just in time. The place obviously reflected the super funky, artsy neighborhood, with dreadlocked waitresses serving hipsters seated at mismatched tables. Eric and I sat ourselves at the most square table we could find and ordered two salad combos – he got the Roasted Veggie and Chickpea Tagine; I got the same Veggie with Asian Mint.
The Roasted Veggie consisted of unpeeled sweet potato, eggplant, pepper, and onion dressed in a light balsamic vinaigrette. The Asian Mint was a lovely medley of spinach, Tofu, sprouts, and cilantro in a lime and mint dressing.
The Chickpea Tagine was basically just a cold rendition of the Morrocan classic. A delicious, yet intriguing idea I felt like a hungover chef woke up late one morning to discover nothing but leftover take out in the fridge – "Dude, I know people eat, like, cold pizza and Chinese food for breakfast, but did you ever try cold Morrocan? It's, like, totally sick."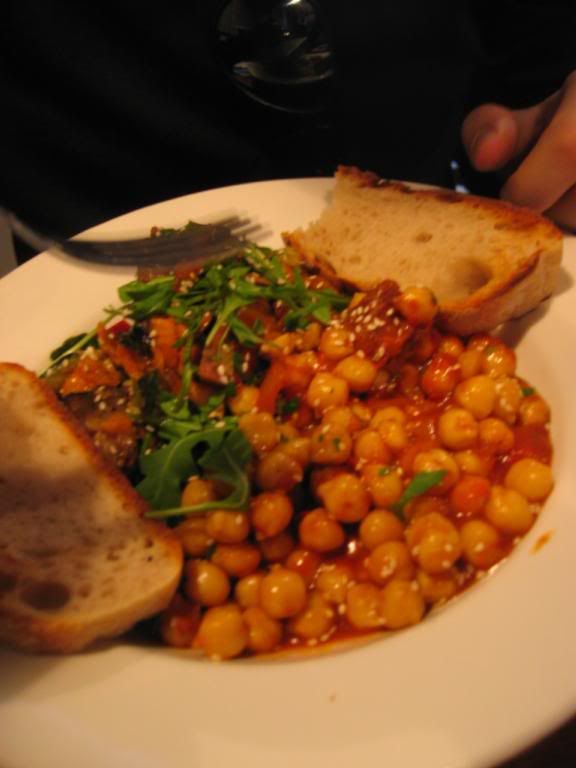 We were enjoying our salads immensely when I noticed two ginormous veggie burgers being delivered to an adjacent table. I'm not gonna lie – I had burger envy. At least we were being healthy…
As far as shopping was concerned, we got off pretty easy – Eric bought a pair of Golas that I had actually spotted in the window the night before. They weren't in the window today, so we went into the shop and asked about them. The clerk actually informed us that she was about to ship them to other store and that they were actually the last pair. Wouldn't you know it – they were in Eric's crazy size.
We strolled around for a while longer, stopping into shops to check out the cool local designs. The Land of Oz may be far from everything, but you can see the Asian influence in otherwise Western shapes and patterns. I don't know how I managed not to buy anything.
We met downstairs at 6, starving for dinner. Adrian had enjoyed a cocktail in the bar while I ordered a Sebatron pre-amp over the phone. Oops, did I say I didn't buy anything today? I was planning on getting their 4 channel pre-amp in the States, but I realized they were based in Melbourne so I figured I'd pick it up while here. Anyway, while I was making my transaction, the boss was recommended a place called Tutto Benne along the river. We tried to hail 3 empty cabs – nobody would take us. Clearly we were doing something wrong, so we went to reception and called on instead. The cab driver took us to the waterfront and dropped us off – "The restaurants are all around, but you have to walk from here." Adrian paid him but we were short 40 cents – "Don't worry about it," he smiled. Adrian tried to give him $5 for a tip. The cabbie just shook his head and waved his hand, "Have a nice dinner." Not only did we not have to tip him, but it was as if he tipped us 40 cents – ha!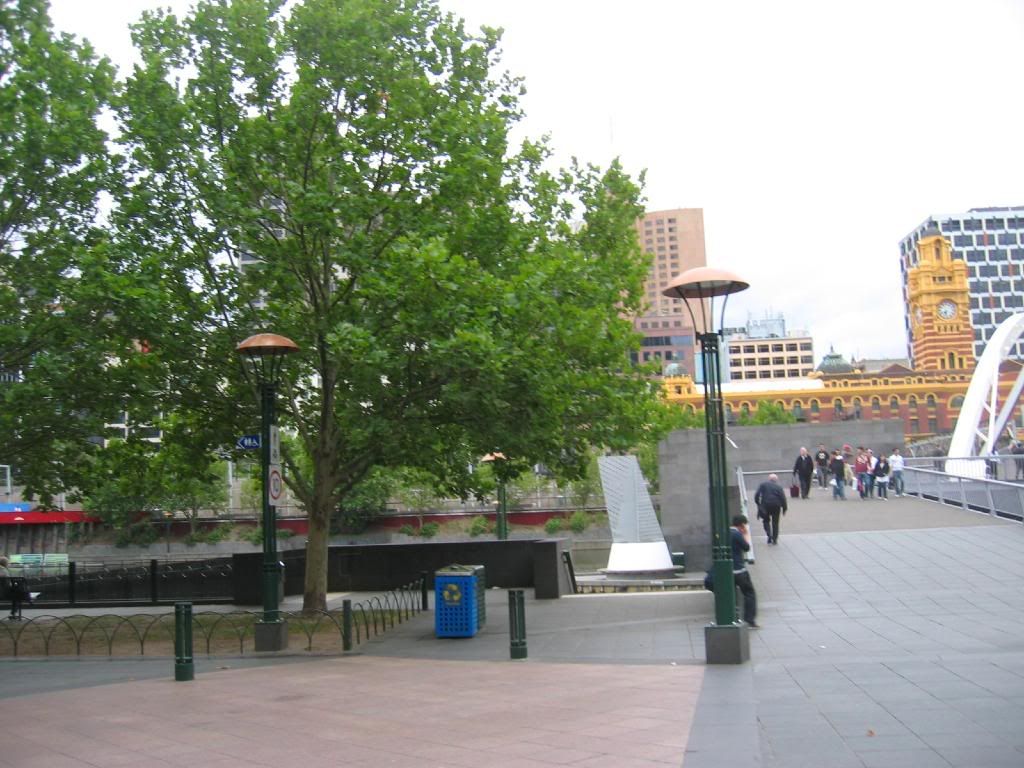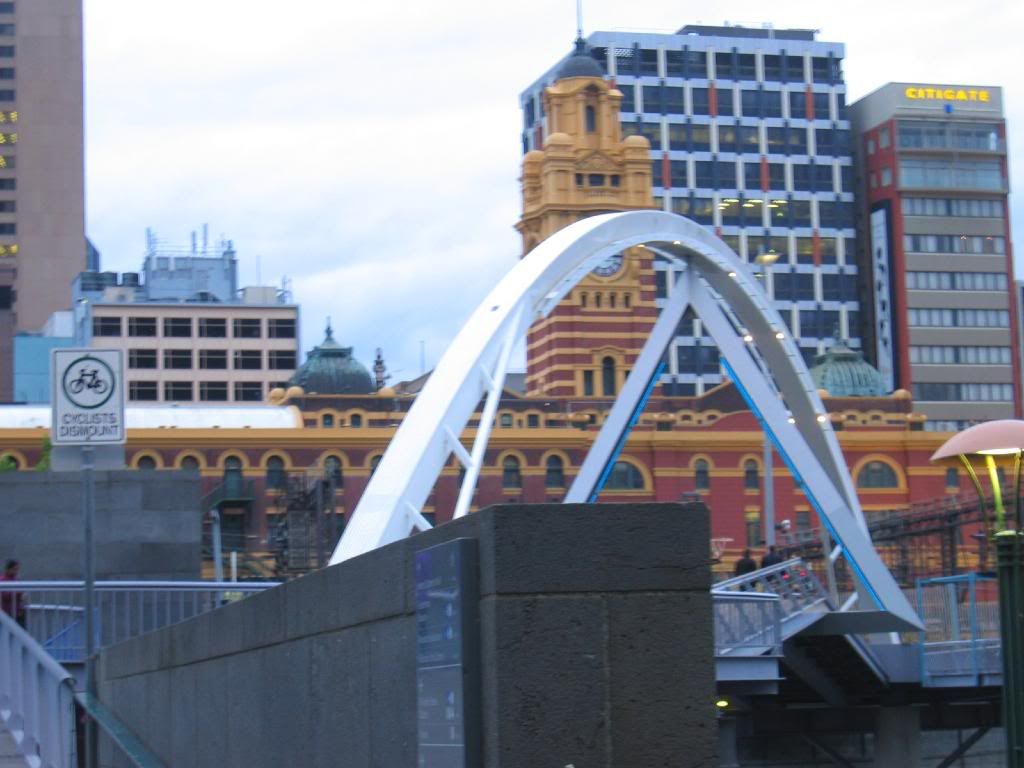 We walked around for 15 minutes trying to find Tutto Benne and failed miserably. We ended up at a place called eGusto - it was the only place that was packed, had veg options, and looked like it would be fast. We only had 45 minutes to eat and get to ABC radio to do a live interview.
We started with some Bruschetta to curb our appetities as we perused the menu. It was ok - perhaps covered with too much feta.
Adrian's main was a simple Spaghetti with sundried tomatoes, capers, and peppers in a spicy garlic sauce. It was good - al dente pasta, tangy veggies - but nothing extraordinary.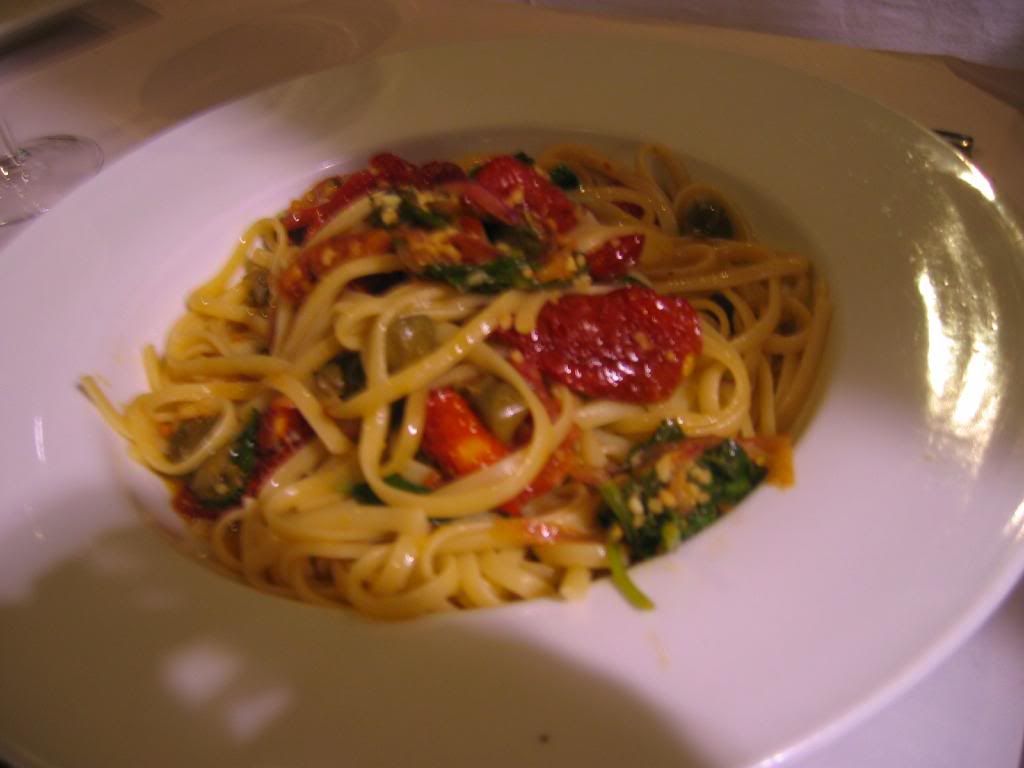 Eric got a vegetarian risotto, which was also somehow gluten free. Perhaps they used barley as the starch rather than the traditional Arborio rice. Like Adrian's it was good, but it lacked the "stirred by the hand of Nonna" touch.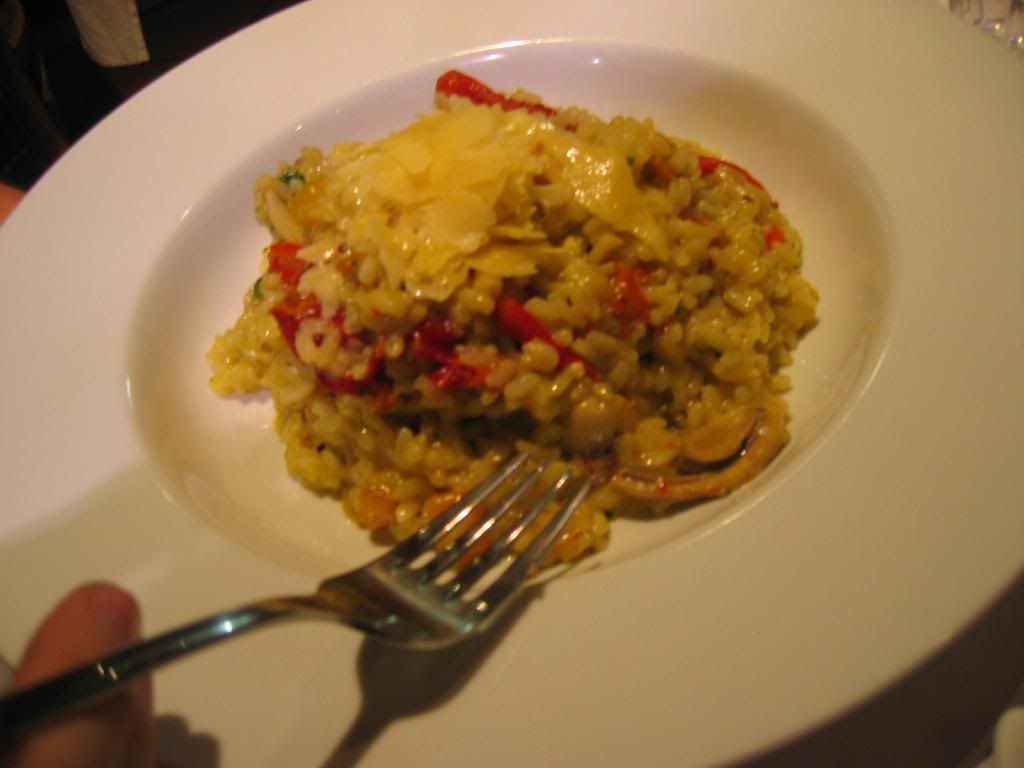 I was trying to be healthy, so I got a salad and some sauteed vegetables. Meh. They gave me too many crunchy carrots - have they never heard of blanching here?
Having sampled everybody's dishes, I'd say overall I'd say the meal was fair, but effective. We even had five minutes to spare before we jumped in a taxi to get to ABC.
The interview was great - Eric and I were nervous about doing a live rap session at first, but Derek (the radio host conducting the questions) made us feel so comfortable, we immediately relaxed. Or maybe the wine from dinner sank in a little bit...
After the interview we hopped in another cab and the driver lit up when he heard our voices – he had just listened to us on the radio! We were going to go Madame Brussels, a relatively new, somewhat hidden cocktail bar located above an Italian Restaurant. How exclusive!
So of course I got red wine and immediately realized that I made a mistake when Eric received his drink: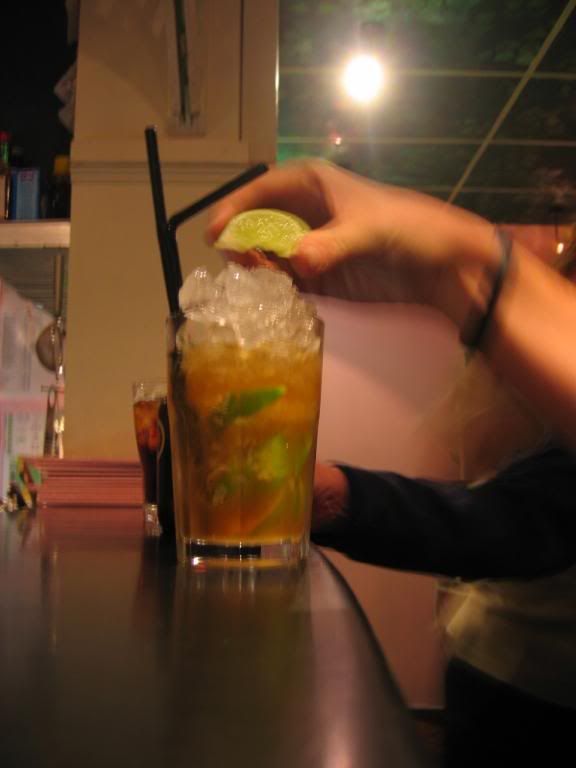 A Caipiroska – brown sugar and lime muddled together and blended with vodka – basically a Caipirinha with a different spirit (rather than cachaça). It was almost as strong, which rendered Eric funny and drunk. The night was great.