We finally made it to Oz! We traveled all day and night to get here – a total of 33 hours from door to door. That would be our record, but I'm pretty sure the trip to Toyama, Japan was longer – we had to switch airports in Tokyo and fly there a day earlier because of a typhoon scare (there was an earthquake the next day).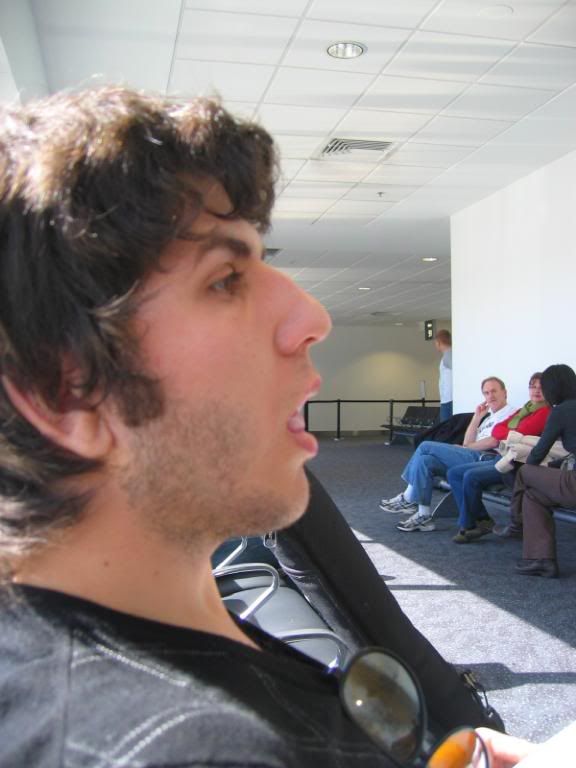 The delirous laughter already started as we went through customs - the guards were convinced Andre was Darius Rucker of Hootie and the Blowfish fame. They confiscated his apple thought to save the core to put on ebay.
It's summer here, but of course I have a pension for packing incorrectly – the temperature changes drastically depending on how sunny it is. I brought all of my tank tops and t-shirts and only two sweatshirts – I suppose I'll be going shopping on my day off tomorrow. Rats, I hate excuses to buy new clothes.
Eric and I were surprisingly bright and chipper, so we hit the streets almost immediately after checking in. Luckily the hotel is located in the center of town, so we could easily access some cool places on foot.
The streets are perfumed with strong coffee and roasted chestnuts (which smell much better than the acrid burnt-nut aroma that wafts about New York). We checked out a couple malls and bookshops, but mainly we just wanted to walk about and get a vibe for the place. We stopped and got a coffee at one of the street stands – it was even better than I expected. I wish Philly had espresso machines on every street corner – and not just in the form of a Starbucks…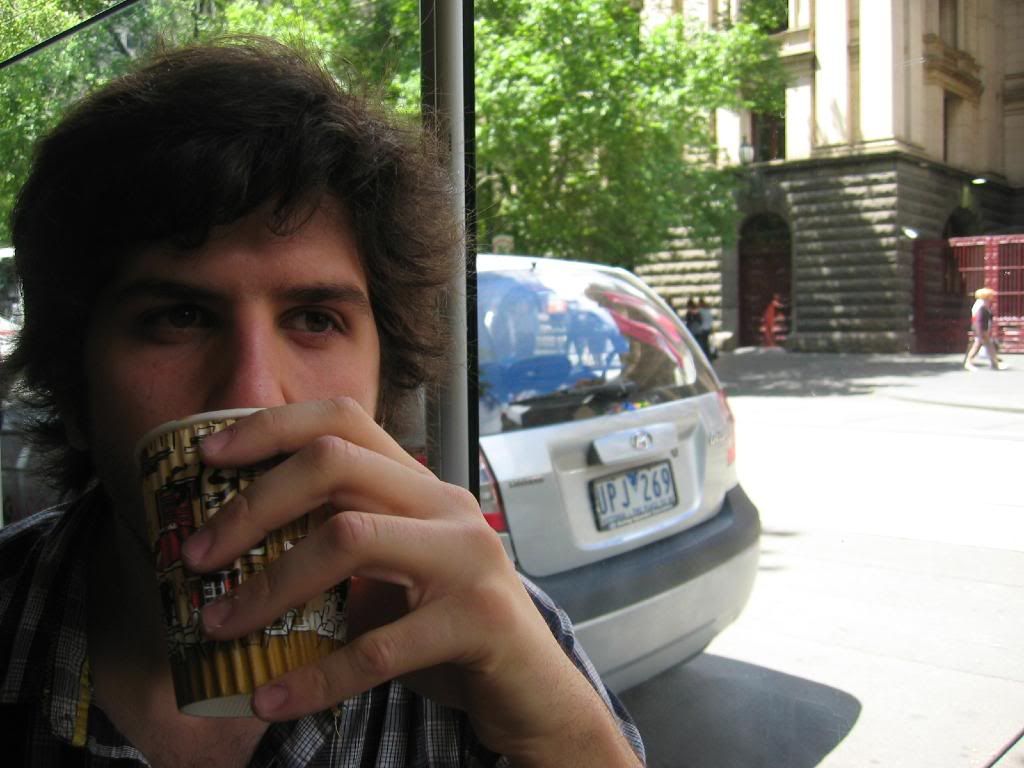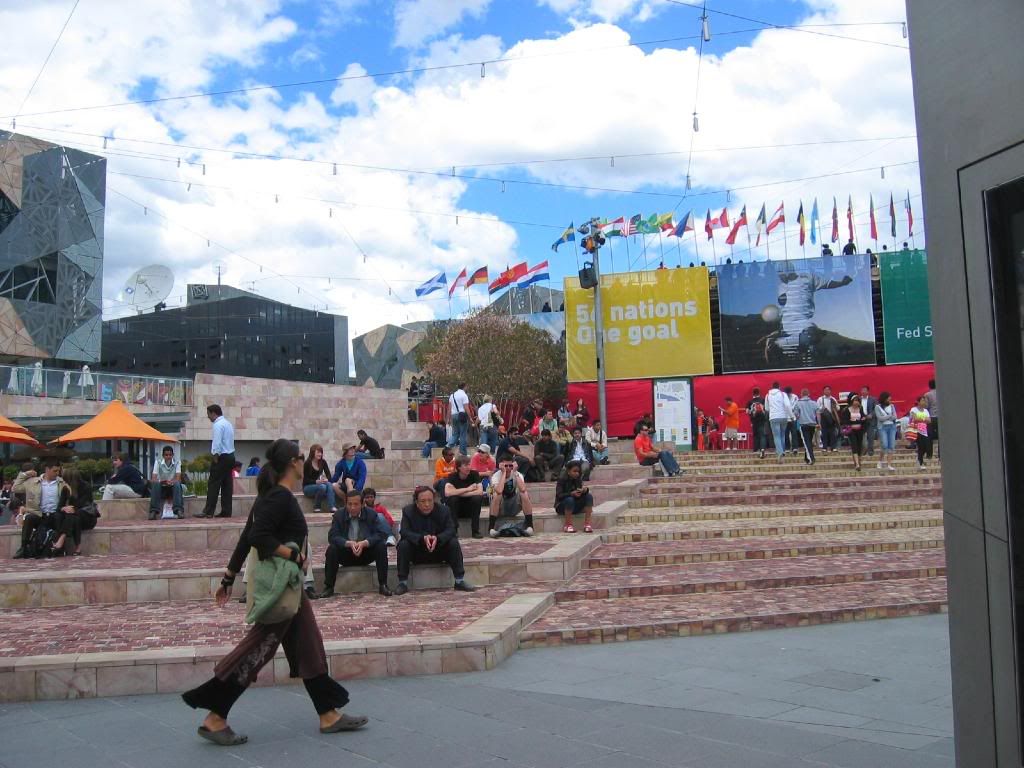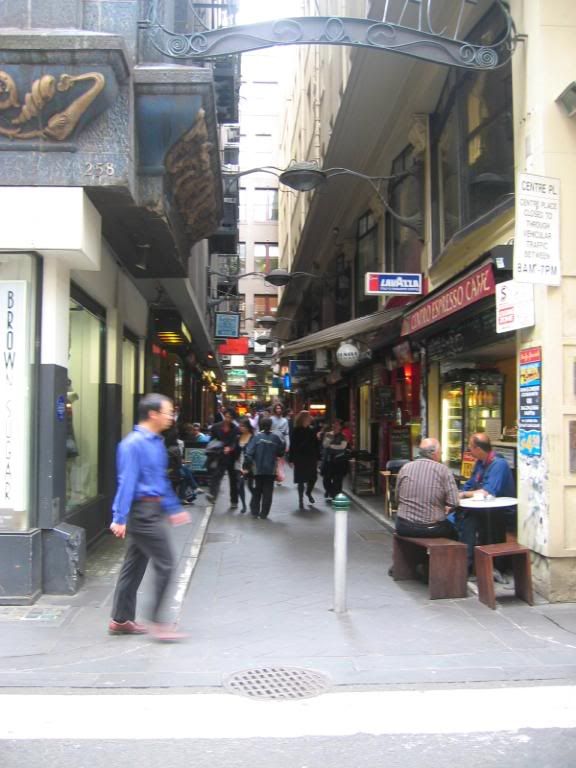 Without Adrian being here yet, we were free to eat at a vegetarian restaurant for dinner. Since Eric and I skipped lunch, it was awesome that we could dine somewhere that didn't just offer salads or steamed veggies as our only options. Our Aussie Tour Manager Charney took us The Veggie Bar on Brunswick St in Fitzroy – a really cool area that reminded me of a more streamlined East Village, lined with hip shops and restaurants. Eric and I instantly decided to return the next day.
Eric was the only to order an appetizer – a Samosa whose pastry crust almost melted in your mouth. It was served with a tangy Cucumber Mint Raita and a Tomato and Tamarind Chutney. My stomach grumbled after I took a bite – I awoke the beast and was ready for my main course.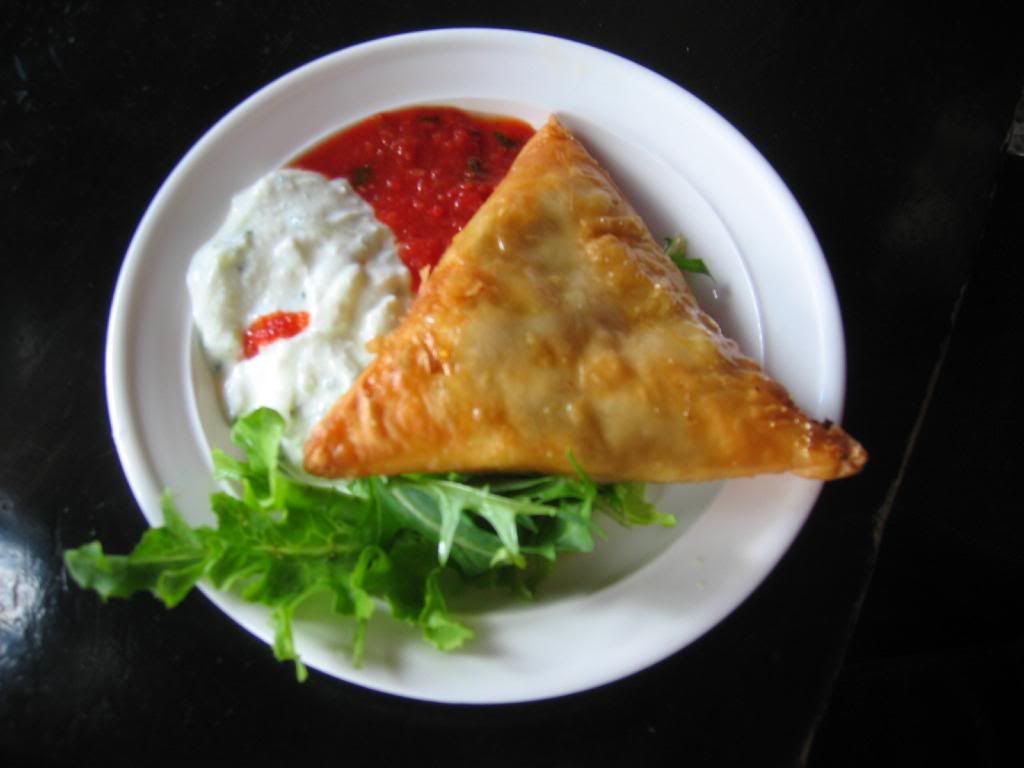 The main portions here were mammoth – perfect for our mammoth appetites. I had the Mostly Greens platter – a plate of (you guessed it) green veggies and tempeh stir fried with garlic and ginger and topped with my choice of sauce (I chose Tahini, but I was tempted by the other two options – Satay and Tamari). The veggies (broccoli, sugar snap peas, green beans, asparagus, carrots and cauliflower) were cooked just al dente, just the way I like.
Eric got the Duo Platter for his main course. This included Stewed Lentils and Curried Chickpeas (think Chana Masala but with pureed tomatoes). It came with the same Raita from the Samosa and a nice, warm piece of folded roti. The chickpeas were cooked like my veggies, slightly al dente – quite tasty. The lentils tasted more of Jamaican curry than what I expected, having a stronger clove flavor.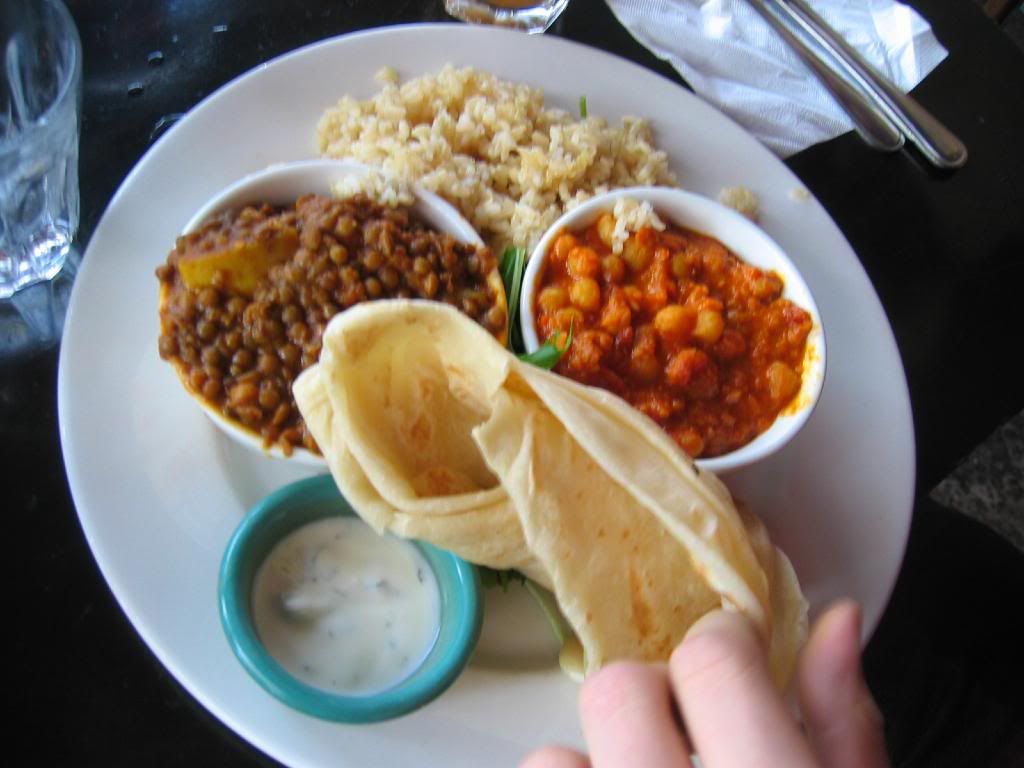 Charney ordered the Original Stir Fry Platter, which was basically just like mine, but with more variety of vegetables. The tempeh is also subbed out for Tofu. She got hers topped with Satay sauce – spicy peanut-y, coconut-y goodness.
We skipped dessert at the Veggie Bar in favor of going to San Churro – a chocolate bar a few blocks away. I told myself I'd only taste what Eric got so I could satisfy my sweet tooth without being too bad. But I knew I was in trouble when I saw the platter of churros (crispy tube-shaped Spanish donuts) being delivered to a table of giggling twenty-somethings sitting outside. Then we opened the door to the café and things got worse. The aroma of sugary hot pastry and chocolate was too much for me to handle – it was like kryptonite to my self-control. I managed to abstain from getting anything when Eric and Charney ordered their Hot-Colds (hot cocoa topped with vanilla ice cream). But then the table next to us received their fondue platter – a plate full of marshmallows, fresh fruit, churros, and ice cream balls surrounding a steaming bowl of chocolate. Enough!!! I stood up promptly and ordered the kids portion of Churros with dark chocolate. At least I got the small size…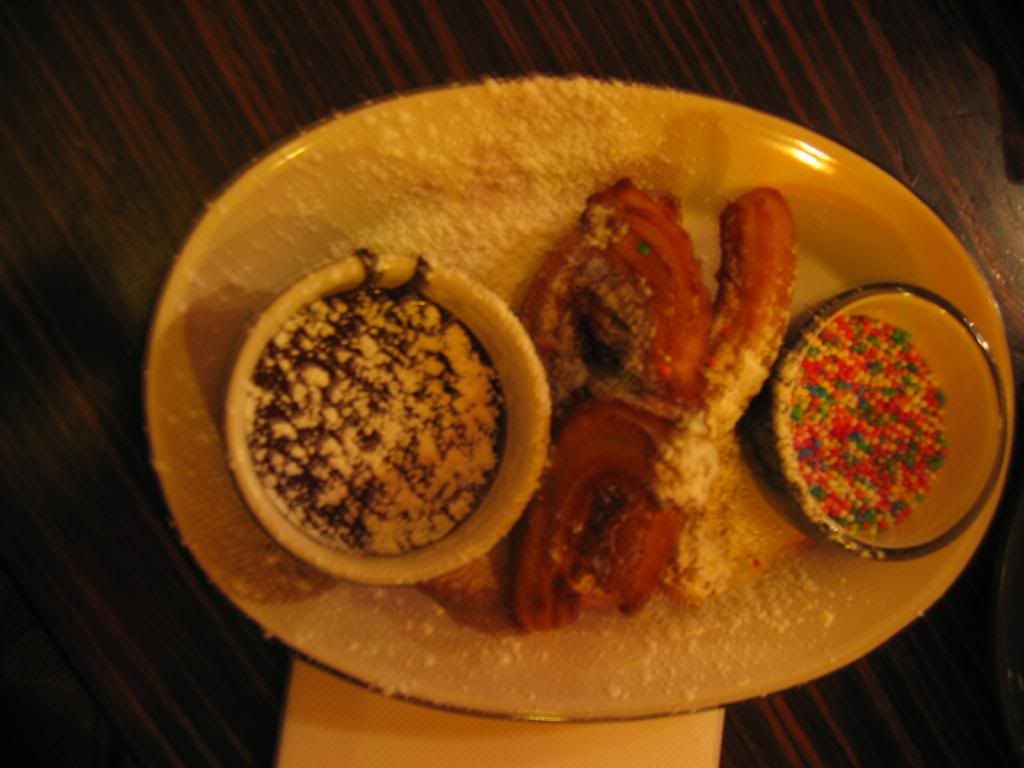 Eric and Charney's Hot-Colds were a culinary revelation to us ignorant Americans. Why have we never thought of this before? It makes me excited to bring the idea back to Eric's girlfriend, Katy. She works at Capogiro, (the world's best) gelato shop – and guess what? They serve hot cocoa. I can already envision the combinations…