Ok, so I guess I've unintentionally been posting just once a month - sorry! As many have read on my mom's blog, I moved to a new place and have been tirelessly working on it so that I can have dinner parties as soon as possible. In the meantime, I assure you that I've still been cooking away, so there are more posts like this to follow.
Allow me to preface this recipe by saying that I have been caramelizing onions every Monday to keep on hand for tucking into omelets, quesadillas, topping sandwiches or pizza, and for several other uses. It's pretty obvious that I love them unconditionally, as I've included them in almost all of the recipes posted on this blog. In fact, before I made this chowder, I whipped up a big batch of curry spiced sauteed onions in my large enameled dutch oven. I neglected to clean out the pot purposely, knowing that some of the residual flavor would impart itself into this soup. I figured that there was no way it would detriment the dish, and I was right. This approach also gave me time to prep the ingredients for the soup. If you don't have the need/means to fry up some bulbs, I suggest adding a scant teaspoon of sweet curry powder to the sweating onions when preparing the soup.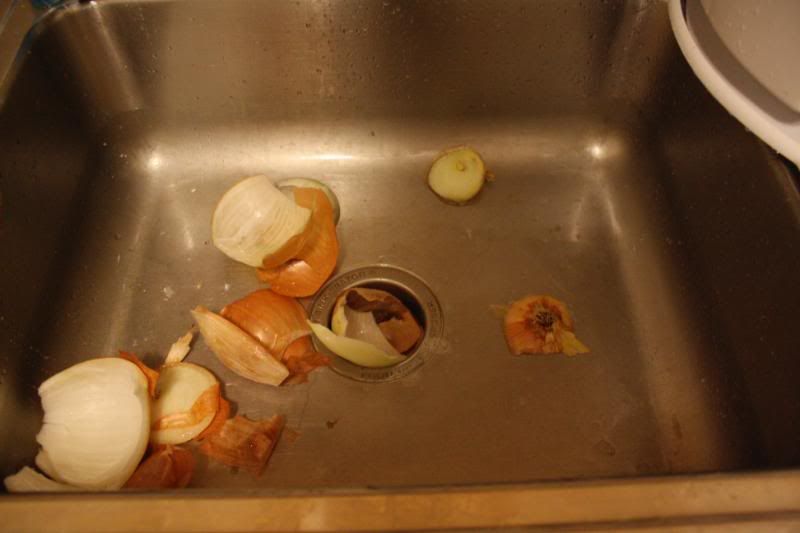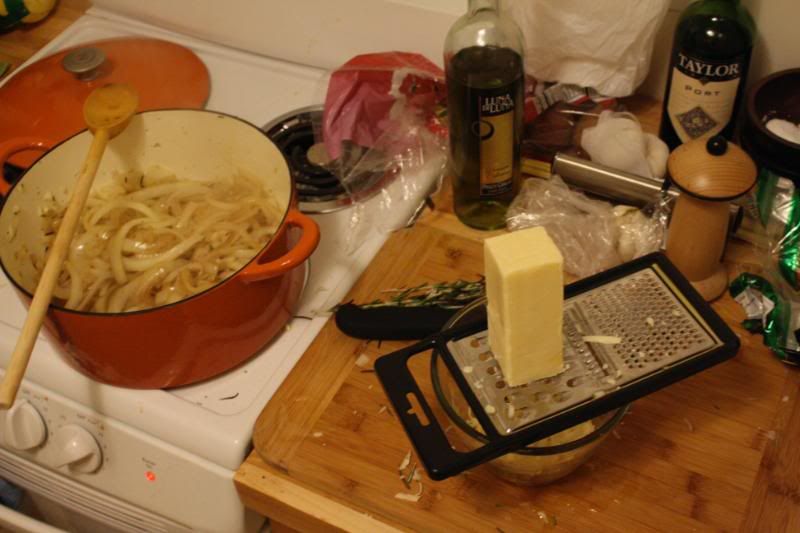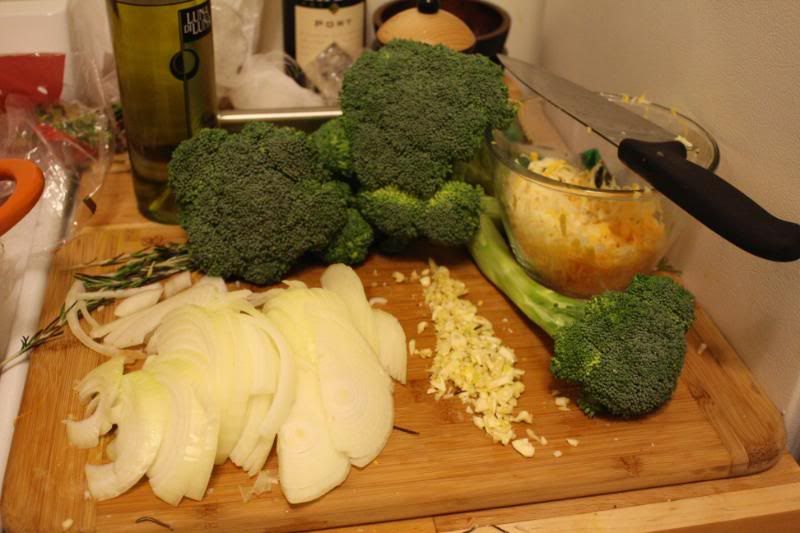 Broccoli Cheddar Soup with Cheesy Garlic Pita Toasts
Adding a splash of beer at the end of cooking livens up the dish, while providing interesting fizz and depth of flavor.
Serves 6-10
2 tablespoons unsalted butter
2 tablespoons olive oil
1 large onion , chopped
2 shallots, chopped
1 tablespoon chopped fresh rosemary
pinch dried thyme
4 cloves garlic, minced
2 pounds broccoli , stems peeled and sliced into 1/2-inch pieces, florets chopped into 1/2-inch pieces
4 cups vegeatble broth
1 1/2-2 cups heavy cream
1/4 teaspoon ground nutmeg (I find it's much, much better grated fresh with a microplane)
1/2 can dark beer, such as Old Chubb Scottish Ale
3 cups shredded mild cheddar cheese shredded, plus extra for garnish
Caramelized Onions (optional)
Salt
Cayenne
Cheesy Garlic Pita Toasts (recipe follows)
Melt butter and olive oil in large pot over medium heat. Add onion, shallots, rosemary, thyme and a sprinkling of salt. Cook until soft, about 5 minutes.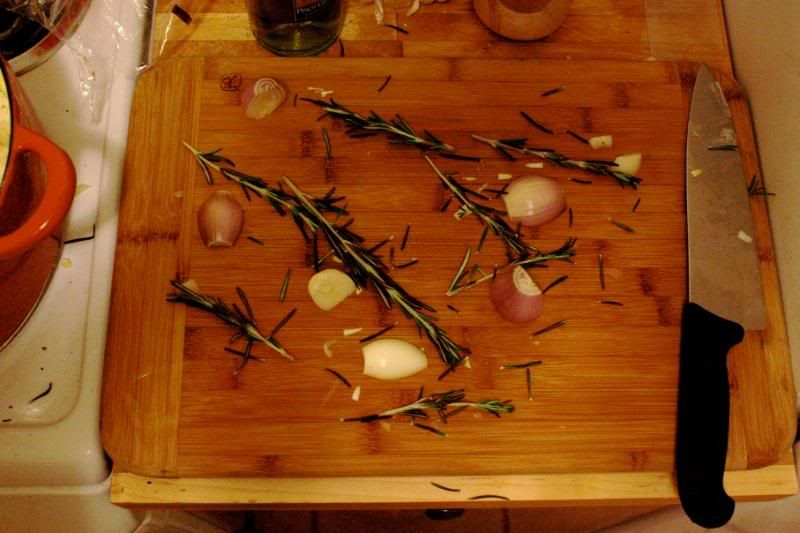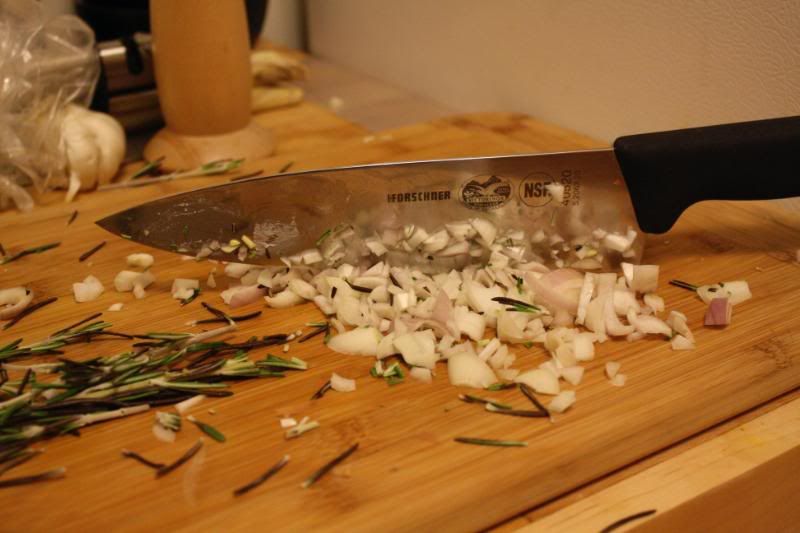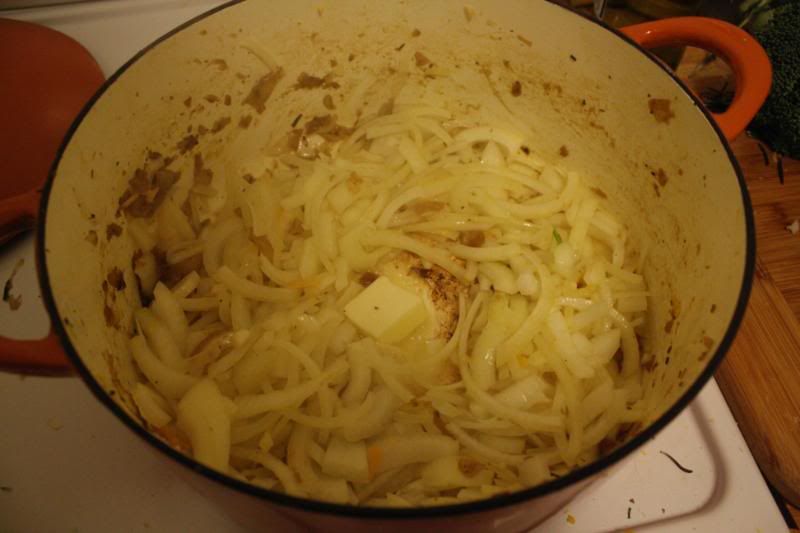 Add garlic and cook until fragrant, about 1 minute.
Add peeled broccoli stems and saute 5 minutes or until they begin to soften and turn a nice, vivid emerald hue. Add broth and increase heat to medium-high. Bring the soup to a boil, then decrease the heat to low and simmer 5 minutes, or until the stems are supple.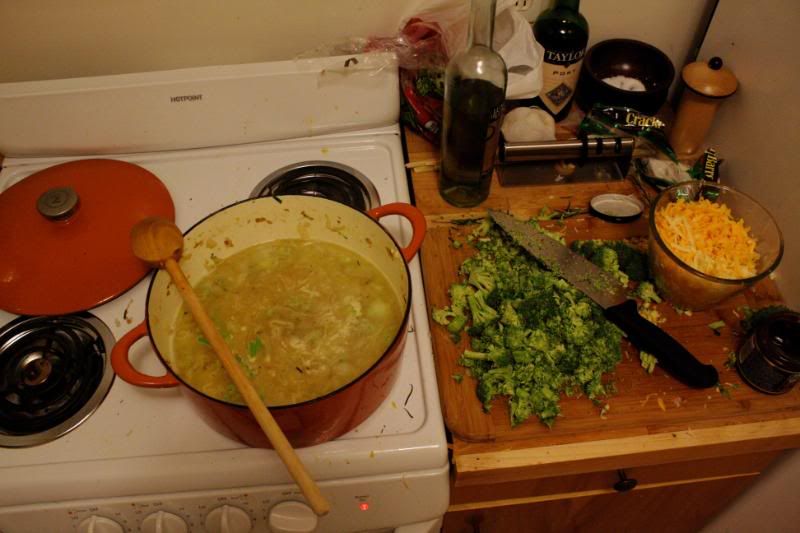 Add florets, 1 1/2 cups cream, and nutmeg and cook another 5 minutes or until the florets are softened and bright.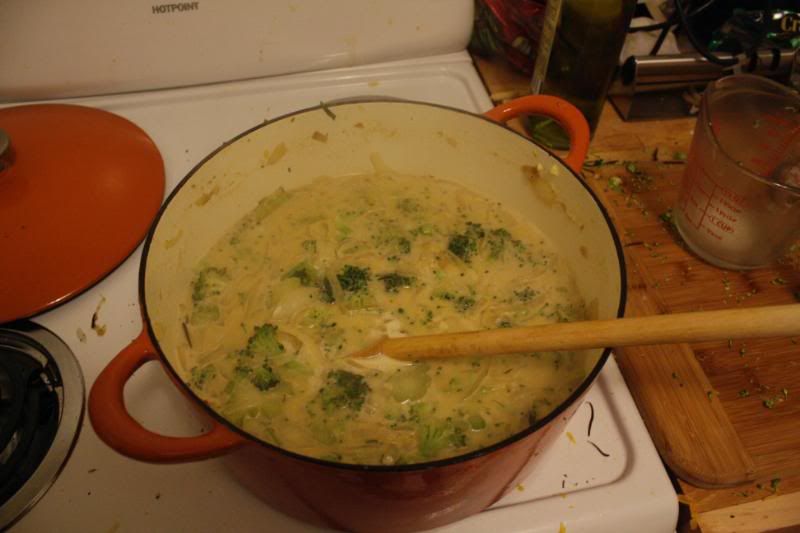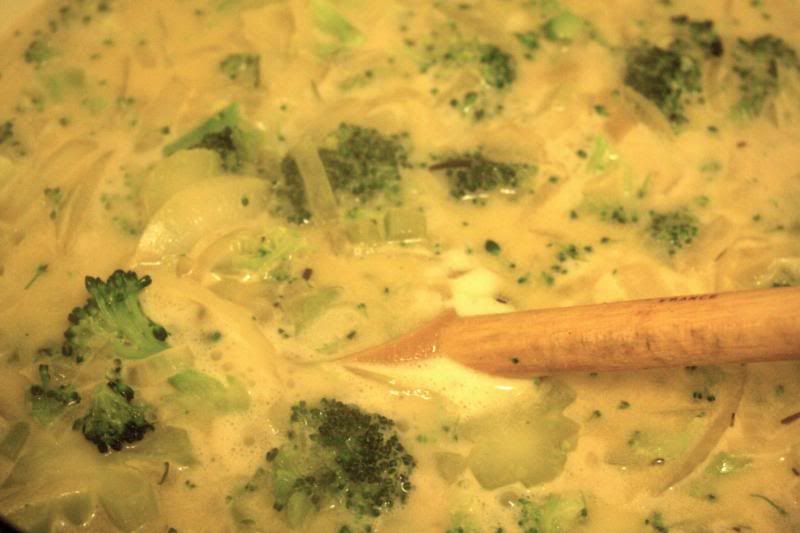 Turn off the heat, and If you have an immersion blender, puree soup right in the pot until the it reaches your desired consistency. If you don't have one of these gadgets, cool the soup slightly, place half of the it in a blender or food processor and puree it in two batches.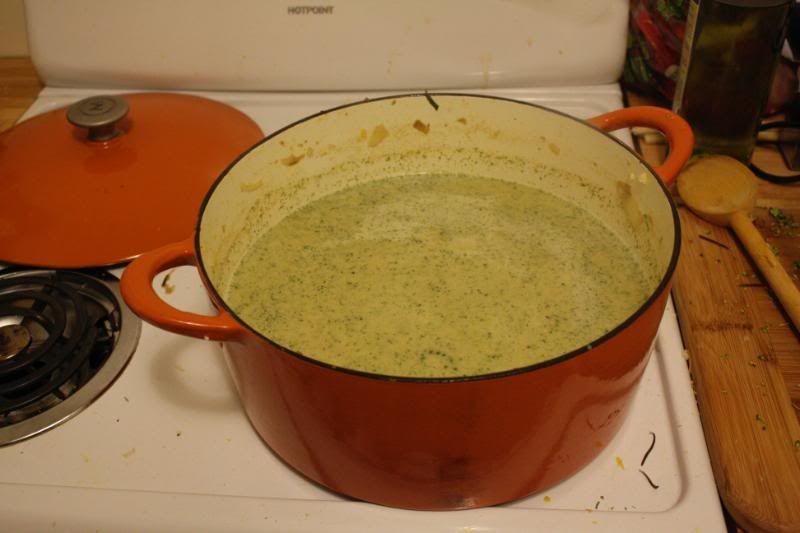 Bring to simmer over medium heat. Add beer, stir in cheddar until melted and season with salt and cayenne pepper. At this point I also snuck in some of those curried caramelized onions I made earlier. Start working on those pita toasts!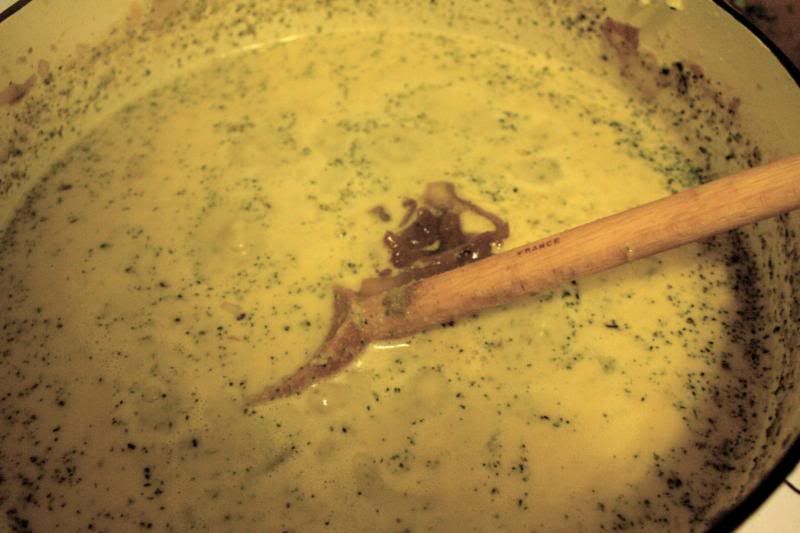 Taste! If the soup too salty/spicy, just add more cream until it's seasoned the way you like it. Serve, garnished with extra cheese, the remaining Old Chubb poured into a nice glass, and Cheesy Garlic Pita Toasts (recipe follows).
Note: This soup can be made ahead and refrigerated once cool, but just make sure you don't bring it to a boil over high heat, or it will separate thereby ruining its velvety texture.
Cheesy Garlic Pita Toasts
3 cloves garlic, minced fine
1/4 teaspoon red pepper flakes
4 tablespoons olive oil
1-2 cups shredded cheddar cheese
4 pita rounds, 6 inches in diameter
Heat olive oil in a small pan and add garlic and red pepper flakes. Saute until fragrant, 30 seconds-1 minute.
Place pitas on a small baking sheet and top with the now spicy, garlic-infused oil. Top with grated cheese.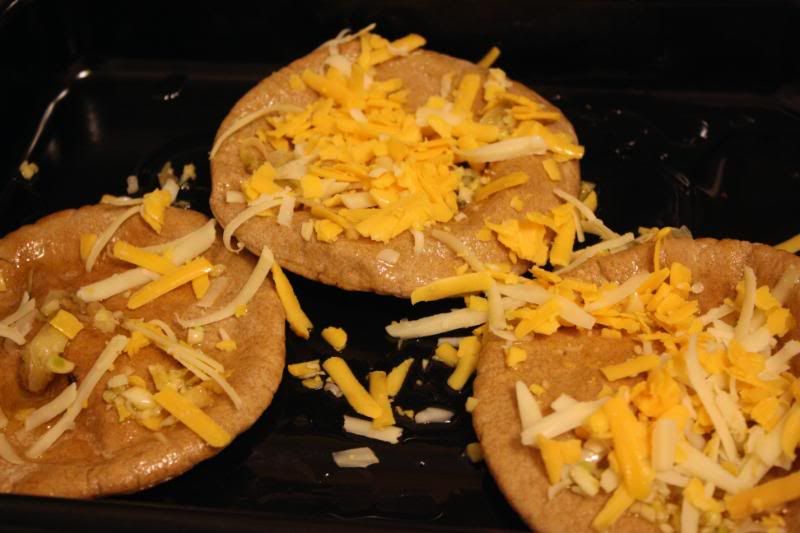 Toast in your toaster oven 5-10 minutes, until golden and bubbly.